facebook Twitter LinkedIn RSS
With less than a fortnight to go until the commencement of the new Privacy laws, the Office of the Australian Information Commissioner (OAIC) has released a statement in relation to the OAIC's new enforcement approach.
The OAIC has made it clear that during the months following 12 March 2014, its focus will be on working with entities to ensure that they understand the new requirements and have the systems in place to meet them.
However, for those entities that feel that they can just sit back and not take steps to comply, some words of caution.
The OAIC has made it clear that where matters are brought to their attention, they will pay specific attention to the steps taken by entities to genuinely prepare for the changes and to comply with the new legal requirements. In other words, the OAIC is more likely to come down heavily on entities that have chosen to do nothing than those that have made a genuine attempt to comply.
The reality for most entities is that their biggest risk will not be the unwanted attention from the OAIC, but rather, that their lack of compliance will be visible to their own customers and clients as they fail to update their privacy disclosure statement as required by the new Privacy laws.
For more information refer to the following related articles:
What privacy procedures, practices and systems do you need to implement? Part 1
Privacy update – Final APP guidelines published
How CompliSpace Can Help
CompliSpace combines specialist governance, risk and compliance consulting services with practical, technology-enabled solutions.
As illustrated below our privacy module is presented within an integrated governance framework that enables a school to manage personal information effectively and meet its privacy obligations on an ongoing basis.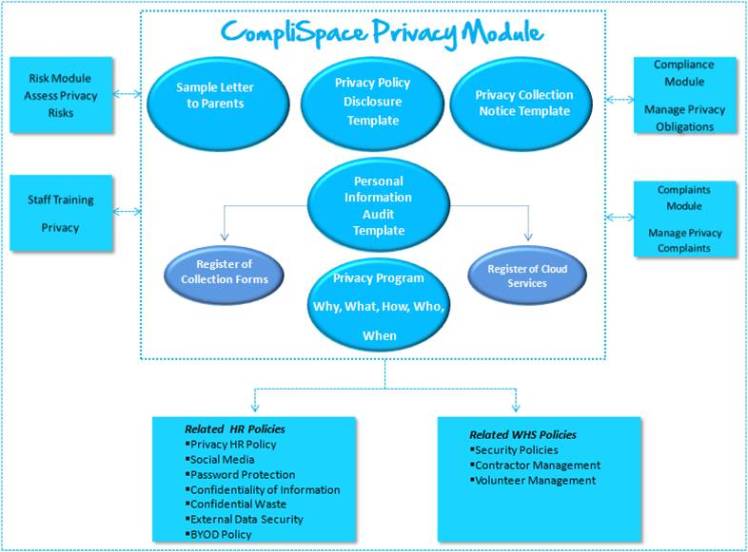 If you are looking to update your existing Privacy Program contact us on:
P: 1300 132 090
E: contactus@complispace.com.au
W: http://www.complispace.com.au
Compliance with Current and Future Child Protection Laws – Embedding a Child Protection Culture. How can this be achieved?